'The Persistent Reality of Illusion' Part IIb (The "John Clare" trilogy)
Sketches of a memory of a memory

Shadows of Memory has been recorded on my first CD of orchestral music, entitled "Journeys after…" and has now been released by Parma Recordings on the Navona label.
Instrumentation: Picc/2/2/Cor/2/Bass/2/Contra/4/3/3/1/Harp/ Perc(3)/Timp/Strings
Duration: 16 minutes
Date of Composition: 2011
Performance:
Workshop Performance –  BBC National Orchestra of Wales; Jac van Steen; Hoddinott Hall; Cardiff Bay. 1/2/ 2012.
Programme Notes, further details of this work, and samples of pages of the music, are all available from the score.
This score is now published by Universal Edition. Please see: Brian Noyes – the composer's life and work | Universal Edition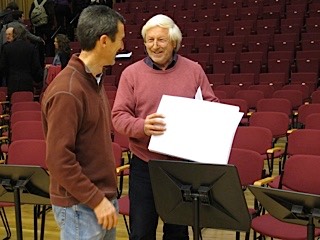 Play audio, then click on 'Enable Full Screen' to view the score in a new window.
"I hope we hear much more from Brian Noyes. In these works he shows himself to be a natural in the orchestral realm. Bravo!"
"if you want to explore Noyes' unique talent and artistic voice, this disc is worthy of a listen."
"Shadows of Memory is even more impressive"
"…more turbulent and harmonically stretched. Both works show Noyes as a figure to be reckoned with in the new orchestral sphere" 
The CD "Journeys after…" is available from Amazon and as a download from iTunes.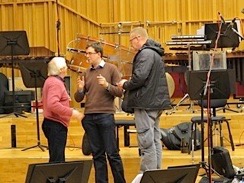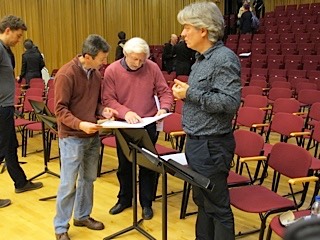 At Hoddinott Hall, with members of the BBC National Orchestra of Wales at rehearsals