The Persistent Reality of Illusion Part III

Tenor Voice, Solo Viola, and large symphony orchestra Op 40
Instrumentation: Picc/2/2/Cor/2/2/4/2/3//Perc(5)/Timp/Harp/Solo Viola/Tenor Voice/Strings
Duration: 32 minutes
Date of Composition: 2015
Performance: Clare in a portico of All Saints Church, Northampton.
Play audio, then click on 'Enable Full Screen' to view the score in a new window.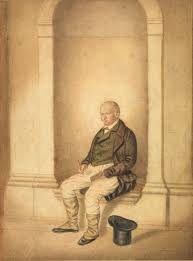 The music references several of Clare's poems and writings, but is essentially a lament for the poet living out his life at Northampton General Lunatic Asylum.
" I see nobody, I hear nothing"
"Poetry? Ah, yes, I once had something to do with poetry"
"I am, but what I am, none cares or knows"
Programme Note, further details of this work, and samples of pages of the music, are all available from the score