Piano Trio Op 38: two performances in USA in May 2015. † † † † Trio Casals perform Piano Trio in West Chester University, and Carnegie Hall, New York.

Two performances of my Piano Trio Op 38 took place in USA in May 2015. The world premiere occurred at West Chester University, Philadelphia, on 9th May 2015, and the second performance took place on 12th May 2015, at the Weill Recital Hall, Carnegie Hall, New York.

The composition was commissioned by Parma Recordings for the ensemble Trio Casals, for inclusion in a recording of new piano trios, and for the above two performances.†
The Piano Trio is subtitled "…in the spirit of Ave Maris Stella" in recognition of the time spent in Dartington Summer School when Sir Peter Maxwell Davies talked about his chamber music composition.
The recording of the whole programme of new pieces in the above performances was released under the title "Moto Continuo" in July 2015 by Parma Recordings. Available from online retailers.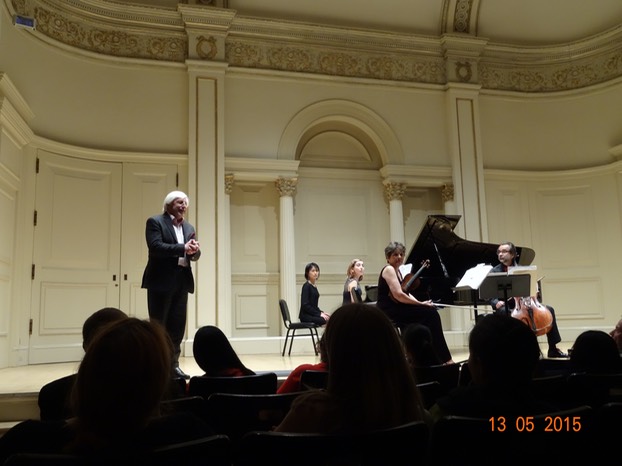 Film Music
I have composed†the music to the film 'The Masterful Hermit', written, produced and directed by Reg Noyes. This will be available from May 2015.
CD - "Journeys after…"
My new CD of orchestral pieces from the John Clare trilogy has been released on the Navona label from Parma Recordings USA.

"I hope we hear much more from Brian Noyes. In these works he shows himself to be a natural in the orchestral realm. Bravo!"

"if you want to explore Noyes' unique talent and artistic voice, this disc is worthy of a listen."

" Both works show Noyes as a figure to be reckoned with in the new orchestral sphere"†
Recently Completed
Reveries and False Hums†-† songs for baritone & ensemble† † † † † † † † †

St Davids Motets†- for SATB Choir

Shadows of Memory†- symphony orchestra

Movement Through Paradox†- sequel to 'Points of Decision'

Marwnad†- string orchestra

Five Orchestral Pieces†-†symphony orchestra

String Quartet

Concerto for Piano and Orchestra (Dinas Emrys)
Gathering of Leaves I - Vision
Gathering of Leaves II - Lament for Princess Gwenllian
Piano Trio Op 38 (..in the spirit of Ave Maris Stella)
Visions of Waking Dreams Op 40 (Part III 'John Clare' series)
Colloquy - cello & piano Op 41
Four Fancies - Welsh folk songs for cello & guitar Op 42
The Hour of Lead (Part II '..margin of eternity..' series) Op 43


Recent Performances
Mirembe, Oscar† -††Cantemus Chamber Choir Wales

Points of Decision† -††BBC Philharmonic Orchestra

A Bowl of Cherries†-††Latvian Radio Choir

Shadows of Memory†-†symphony orchestra (workshop performance by BBC National Orchestra of Wales)

Gathering of Leaves I - Vision. †orchestra (workshop performance by BBC National Orchestra of Wales)
Piano Trio Op 38 (..in the spirit of Ave Maris Stella) - Trio Casals World Premiere: West Chester University, Philadelphia. May 2015 Second Performance: Weill Recital Hall, Carnegie Hall, New York.†